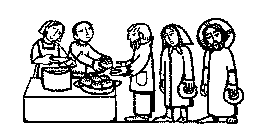 &nbsp"…Inasmuch as ye have done it unto one of the least of these my brethren, ye have done it unto me."  (Matthew 25:40)
---
        THE GREENWOOD

       SOUP KITCHEN MINISTRY, INC.

<![if !supportEmptyParas]> <![endif]>

     929 Phoenix Street

<![if !supportEmptyParas]> <![endif]>

     GREENWOOD, SC. 29646
(site updated October 13, 2010)
 LOCATION:
<![if !supportEmptyParas]> <![endif]>
  929 Phoenix Street
 (Former "Burton Center dining room")
     GREENWOOD, SC. 29646
<![if !supportEmptyParas]> <![endif]>
     Office: 864-229-2296
Home
HISTORY
<![if !supportEmptyParas]> <![endif]>
"Feed My Sheep" is the mission given us by our Lord and Savior Jesus Christ.  "Feed My Sheep" is a continuing Christian responsibility or contract entered into by His followers.  "Feed My Sheep" reflects the purpose of the Soup Kitchen Ministry.
<![if !supportEmptyParas]> <![endif]>
Greenwood area churches' representatives first met on May 13, 1987, to hear about the Soup Kitchen Ministry in Greenville, S.C., and to learn how to organize and run one for Greenwood.  By mid-September, 1987, plans firmed up, volunteers got organized, the Episcopal Church of the Resurrection made kitchen and dining areas available, and the doors to the Greenwood Soup Kitchen opened.  Area churches agreed to take responsibility for different days: the Episcopal Church of the Resurrection on Monday, Our Lady of Lourdes Roman Catholic Church on Tuesday, "By Committee" on Wednesday, the First Baptist on Thursday, and Main Street United Methodist and First Presbyterian on Friday.  Since that initial beginning, people from other churches and community groups have volunteered their time.  The ministry has become a truly ecumenical experience for Greenwood
<![if !supportEmptyParas]> <![endif]>
After more than 13 years in its original location, the Soup Kitchen has moved.  The First Presbyterian Church of Greenwood purchased the former "Turner House/Senior Center" at 123 Bailey Circle, and as part of its outreach ministry offered those facilities to the soup kitchen and many other community services.  This facility had a handicap accessible ramp and many other features which allowed us to better serve our guests.  The move took place on March 5, 2001. The last meal was served at the Turner House location on February 20, 2009 -- almost eight full years. The Soup Kitchen has teamed with the United Center for Community Care (UCCC) and relocated to the facility owned by UCCC on Phoenix Street in Greenwood. Many different outreach programs are housed in the old Burton Center facility at that location. The old dining room with full kitchen serves as the new Soup Kitchen of Greenwood. The entrance to the Soup Kitchen is through the East Avenue entrance, which is handicap-accessible and has a covered car drive-through for inclement weather drop-off by car. The Soup Kitchen must rent space and for the first time will have to provide for rent as well as the necessary food preparation costs through donations.
Home
TODAY
<![if !supportEmptyParas]> <![endif]>
Today, the Greenwood Soup Kitchen Ministry serves over 20,000 meals a year at a cost of $1.40 per meal.  The average daily attendance is 82.
<![if !supportEmptyParas]> <![endif]>
Ingredients for the soup, sandwiches, and other food are bought locally or contributed by local businesses and individuals.  Much of the cost involved is for paper products – soup bowls, cups, plates, napkins, etc., as required by the Health Department.  There are also costs for items such as insurance, stove and oven repairs, and dining area "heavy" cleaning.  Thus, the overall cost of operating the Soup Kitchen for one year is over $28,000.00.  This money comes from the generosity of area churches, civic organizations, clubs, and individuals.  Also, these same groups and individuals often collect food stuffs for use by the Soup Kitchen.  The Soup Kitchen volunteers are most appreciative of all help – money, food and prayers. We are an ALL VOLUNTEER AGENCY.
<![if !supportEmptyParas]> <![endif]>
The Soup Kitchen Ministry is entirely dependent on your donations of food and money – and your prayerful support – for its existence.  It receives funds from no other sources: NO FEDERAL, STATE, LOCAL GOVERNMENT or UNITED WAY assistance is provided. 
<![if !supportEmptyParas]> <![endif]>
In 1994, the Greenwood Soup Kitchen Ministry became incorporated with its own Board of Directors.
<![if !supportEmptyParas]> <![endif]>
<![if !supportEmptyParas]> <![endif]>
<![if !supportEmptyParas]> <![endif]>
Home
NEEDED ITEMS
If you wish to make a donation of canned goods or other items, please contact Norm Fawcett at the phone number listed below:
<![if !supportEmptyParas]> <![endif]>
Norm Fawcett                      864-227-3421
If you would like to make a monetary contribution, please send to:
            Soup Kitchen Ministry
            929 Phoenix Street
            Greenwood, SC.  29646
Items currently needed at the Greenwood Soup Kitchen:
| | | |
| --- | --- | --- |
| 1. | Tomato Juice | 46 oz. Can |
| 2. | Canned Tomatoes | 1 lb. Can |
| 3. | Canned Tuna Fish | 12 oz. Can |
| 4. | Treet/Spam Canned Meat | Reg. Size |
| 5. | Peanut Butter | 1 lb. Jar |
| 6. | Grape Jelly | 1 lb Jar |
| 7. | Canned Chicken Gravy | 14 oz. Jar/Can |
| 8. | Canned Beef Gravy | 14 oz. Jar/Can |
| 9. | Chicken Broth | 16 oz. Can |
| 10. | Mayonnaise | 1-Quart Jar |
| 11. | Canned Fruits ( any) | 1 lb Can |
| 12. | Sweet Relish | 1 lb. Jar |
| 13. | Veg-All | 3 lb Can or larger |
| 14. | Beef Stew | 3 lb Can |





"…Inasmuch as ye have done it unto one of the least of these my brethren, ye have done it unto me."  (Matthew 25:40)



Home



CONTACTING THE GREENWOOD SOUP KITCHEN





By Mail:
By Telephone:
929 Phoenix Street
GREENWOOD, SC. 29646
(864) 229-2296 (9-12, Mon.-Fri.)

&nbsp
&nbsp
In Person:
By E-Mail:
929 Phoenix Street
(Former "Burton Center")
Greenwood, SC 29646
fawcett@nctv.com
&nbsp
&nbsp


Home

















<![if !supportEmptyParas]> <![endif]>